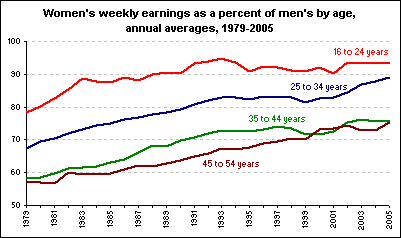 As little girls, we were told that we can be whatever we want. We were told that girls can do just as much as boys can. We were told that boys and girls are equal. Reality is men and women are not equal when it comes to pay day. Women earn just 79 cents for every dollar made by men. It is said that men get paid more due to them having greater levels of both education and experience than women. According to Betsey Stevenson since the 1990s, the majority of all undergraduate and graduate degrees have gone to women.  In the graph shown it explains that women have taken up more degrees less than a Doctor's. This doesn't seem to show why women are still being paid less today, there is still more unexplained reasons to the gender wage gap.
Women
Choose

Low Paying Jobs?

It is said that "Women simply choose to study less lucrative subjects, enter lower-paying professions and stay towards the bottom rungs of the career ladder", stated in the article, The simple reason for the gender pay gap: work done by women is still valued less. Although some women do, even the women that do choose to be in a more successful  careers they are still paid less than a man would in the same career. "Differences in occupation and industry explain about 49 percent of the wage gap, but 41 percent of the wage gap is not explained by differences in educational attainment, experience, demographic characteristics, job type, or union status", found by economists Francine Blau and Lawrence Kahn.
Motherhood Affects Pay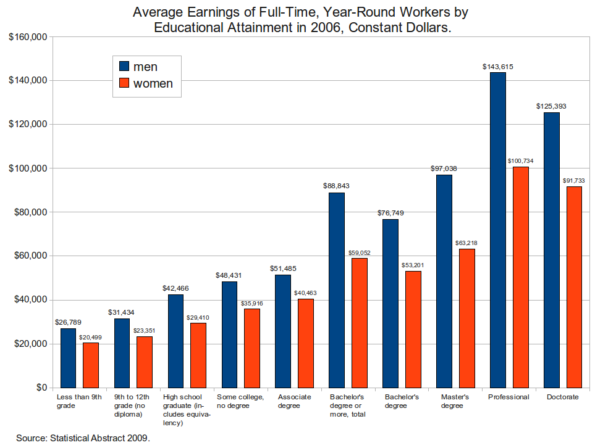 Many people say that motherhood has a big factor for the difference in wage, for reasons of when a women would take maternity leave or would to take time off to take care of a child. Motherhood is associated with women wanting to leave the workforce to care for their children. Women that have children look for low paying jobs and  jobs with flexible hours which include low pay, stated in the article, Here are the facts behind that '79 cent' pay gap factoid.  Which shows why women would take up lower jobs. If women were to delay having children it would increase their earning potential by 9 percent for even a year. When women are going through this, men are enjoying their pay increase when they have children.
Money Women Don't Receive
Lets step away and look at the money that women are missing out on. The average women can expect to lose out nearly $500,000 in earnings over the course of her career. According to National Women's Law Center, the average woman will make $430,480 less than her male counterpart over the course of 40 years of work. This even goes beyond gender, it also leads into different races of women. For African American women, that gap grows to $877,480, while for Latinas, it adds up to over $1 million.
Wage Gap Goes Beyond Women's Paycheck
Women think that the gender wage gap mainly affects their paycheck, wrong. According to Kelley Holland "When women are paid less, they have to allocate a larger share of their income to cover their health insurance and other benefits, and that leaves them with less to set aside". 53 percent of women are very concerned and terrified that daily things that occur in life will affect their retirement plans. 51 percent of women said they were very concerned and panicked about being able to afford their retirement life. 17 percent of women over the age of 65 live in poverty, due to the gender wage gap widening over the years of your life in your career.
What About Hard Working Women?
Most of the common reason why women are payed less is due to them leaving the workforce to care for children. What we don't hear about is the women that have children but are working just as hard and long hours as men but still can't even get paid the same as their men co-workers. It would be easier if there was no gender wage gap. There would be no older women in poverty due to the gender wage gap having an affect on the money they earned for retirement.
In The End
In the end, it would have to take women 100 years to catch up with men. "Globally, reports show, women now on average earn half of what their male peers are paid", stated in an article from Glamour. As women age and their career goes on, the gender wage gap will continue getting wider and worse. For women there is no such thing as equal pay day, even when it is equal pay day, women still get less money than their male peers. What most of the articles and facts lack is what women who have children, who don't miss work or take a leave of absence still get paid less. The gender wage gap causes too much consequences that it would be easier to get rid of it, but due to the amount of money it will cost the U.S. Economy they will not. My last thought is that in the long run it severely affects women all over and more than some. Men didn't do anything to deserve more money than women. The gender wage gap will continue to grow over a woman's lifetime.
Featured image from Flickr by Mike Licht
(Visited 262 times, 1 visits today)