Beloved president, Teddy Roosevelt once said, "I don't go so far as to think that the only good Indians are dead Indians, but I believe nine out of ten are, and I shouldn't like to inquire too closely into the case of the tenth."
Since the white man first discovered the new world, Native Americans have been stepped over, betrayed, and slaughtered. Their lands have been taken and destroyed, their culture has been disrespected, and their people have been forced onto unclean land, or killed simply for being Native American. Even today, many still suffer due to the horrors of the past.
A current issue Native American people are facing is the Dakota Access Pipeline, which plans to transport crude oil from North Dakota, all the way to Illinois over a stretch of 1,172 miles. At first this might not seem like such a wrongful thing, but the construction of this pipeline means absolute chaos for the Standing Rock tribe that live on this land.
The Construction Plan
Dakota Access, LLC, the company that is constructing the pipeline says that this pipeline will be clean and reliable, but data says differently. According to Natural News, "a 34-inch pipeline owned by Enbridge energy operating in Will County, Illinois leaked more than 6, 400 barrels of Saskatchewan heavy crude oil."   That's more than 250,000 gallons of crude oil being dumped right into the Standing Rock Sioux tribe's drinking water. Time and time again, oil pipelines spill. They just aren't safe. Since 2010 there has an estimated 200 spills a year. A couple spills here and there mean nothing to big businesses, they especially mean nothing to the government, but that does not take away the dramatic impacts on small communities.
The land they are trying build on, does not even legally belong to them. It belongs to the Great Sioux Reservation, not the US Native American tribes are sovereign nations.
"In the year 2016, we should not continue to trample on Native American sovereignty. We should not endanger the water supply of millions of people. " — Sen. Bernie Sanders
Water Pollution 
Native Americans hold water near and dear. They use it as their first source of medicine. This article by MEHR News Agency says, "The tribe's subsistence and their physical and cultural health will be threatened due to potential contamination by oil spills directly impacting their drinking water." This is why they have rights to their reservation lands and water. They have treaties with the US government that are in place to protect them from anything that would harm their resources.
Native Americans are protected under the U.N. Declaration on the Rights of indigenous peoples, including the "right to health, right to water and subsistence, threats against sacred sites including burial grounds, treaty rights, cultural and ceremonial practices, free prior and informed consent, traditional lands and resources including water, productive capacity of the environment, and self-determination."
Senator Bernie Sanders spoke out against the contamination of the tribe's water: "We cannot allow our drinking water to be poisoned so that a handful of fossil fuel companies can make even more in profits… This pipeline must be stopped! … Stop the pipeline, respect Native American rights and let us move forward to transform our energy systems away from fossil fuels." Still, as more people are speaking out against the pipeline, nothing is being done.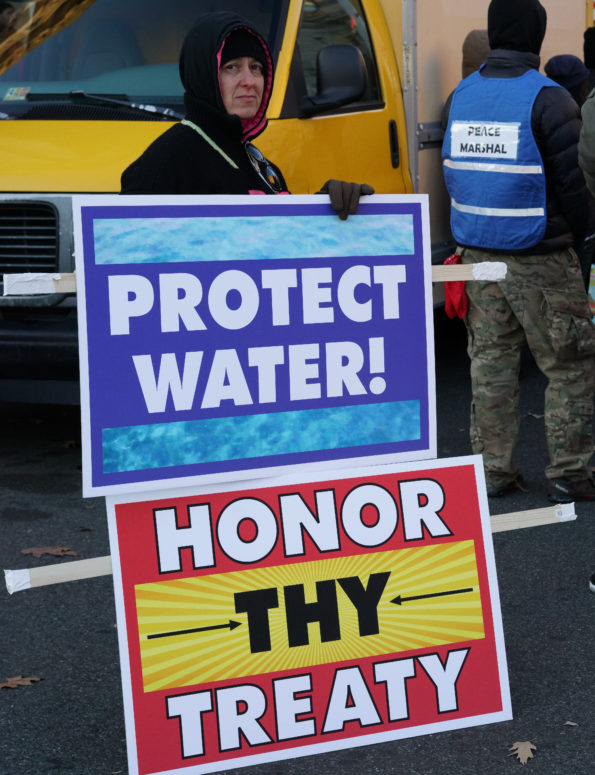 Water is a Basic Human Right
According to article 5 of The Universal Declaration Of Human Rights, "No one shall be subjected to torture or to cruel, inhuman or degrading treatment or punishment." I don't know about you, but denying thousands of people the most important and basic necessity of life is pretty degrading and inhuman. Even the UN agrees this is atrocious. They believe that the US government should give the tribe, "a fair, independent, impartial, open and transparent process to resolve this serious issue and to avoid escalation into violence and further human rights abuses."
Violence Against Protesters
The First Amendment. The one that everybody knows, freedom of speech. Under the United States Constitution, people have a right to gather and speak out against injustices. Yet the lives of the protesters are in danger. Protesters are being shot at with water cannons in below freezing weather, and police have become increasingly more violent while protesters have remained peaceful.
DESMOG states in their article, "Several protesters — including a child and a pregnant woman — were bitten by security dogs and 30 suffered from the affects of pepper spray." These people have rights, rights that the government are refusing to protect.
"The brutality we've seen in recent days involving rubber bullets, tear gas, and water cannons, has increasingly put the health and lives of the demonstrators at real risk" – Sen. Martin Heinrich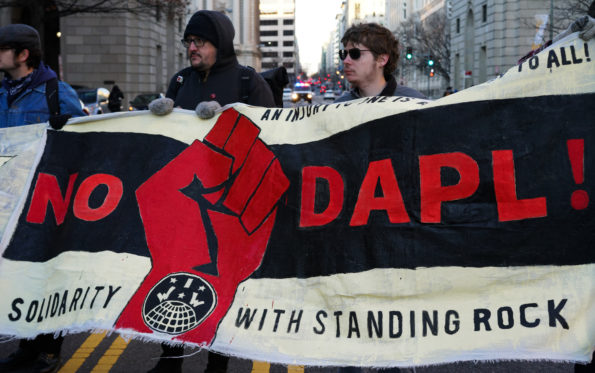 Sacred Grounds Are Being Destroyed
Many sacred sites of the Standing Rock Sioux have been, and will continue to be bulldozed over if construction resumes. These are important places that need to be preserved, and the government has absolutely no regard for the importance of them. The Dakota Access, LLC claim they want to, "protect and restore the environment to at least similar conditions before [they] started." Does that sound like a company that truly respects a group of people's culture and beliefs? It sounds more like they want to hurry up and make a profit despite the suffering of innocent people.
Even if they do decide to lift a helping finger, the damage has already been done. Sacred sites will have been completely torn up and out of the ground. ICTMN says, "Nearly 1,300 archaeologists and museum representatives had called for the federal government to do more to protect the tribe's sacred sites." Clearly, they have options to protect this land, they just will not.
This is real, the US has abused these people, they are violently trying to take land that is not theirs. This is destroying peoples lives, culture and the planet.
Featured image credits:
Women's Solidarity with Standing Rock / Peg Hunter /  CC
(Visited 223 times, 1 visits today)