Post by Kenedy B.
Featured Image by http://pixabay.com/en/sunset-beach-ca-sky-658583/
From checking out tons of animals at the zoo to catching gnarly waves at the beach, San Diego was the ultimate dream! Although I was only there for 5 days I sure did a lot. Here is what my beautiful trip to San Diego, California consisted of.
Day 1
The first day in San Diego was a low key kind of day. We left Arizona around 8 am and got into La Jolla, a city right next to San Diego, around 2 pm. After arriving at our hotel and unpacking our bags it was time to explore. We headed down to La Jolla Cove and hung out with some sun bathing seals for a bit before getting overwhelmed by their stench… For dinner that night we had In-N-Out Burger which is by far the BEST burger joint in the country. After dinner we headed back down to the beach and caught a sunset it is a necessity while in San Diego. All I can say is WOW!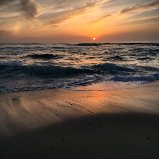 Sunset
Roses in la jolla
view from hotel
Me at In-N-Out!
Day 2
Our second day was filled with relaxation. My family and I started the day off with breakfast by the pool and then went shopping for most of the day. Our hotel was right in the heart of La Jolla which has so many stores to choose from. They have everything from Lululemon to Ralph Lauren and even just some tourist tee shirt shops. After shopping we went for a walk on the beach and me and my brother climbed the tall rocks overlooking the Pacific then went back to the hotel and lounged by the pool. After dinner we had dessert at Bobboi a natural gelato shop. It was the best gelato I have ever had and no one in my family was disappointed. Finally we hit the beach for another sunset.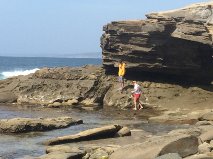 la jolla cove
Day 3
Day three was one of the most fun days. We spent it at Mission Beach which is a part of San Diego that has a boardwalk, an amusement park and, of course, a beach. The boardwalk has tee shirt shops, taco stands, restaurants and rental stores where you can rent bikes, surf boards and boogie boards. I rented a boogie board and was ready to hit the waves until I realized how cold the water was. I hopped in and just about froze! The waves were so big you could only be in a certain area where the lifeguards could see you. After trying, and failing to boogie board I decided to head over to Belmont Park (a small amusement park at Mission Beach). There wasn't much but they did have a roller coaster so me and my brother bought a ticket and took it for a spin. After Mission Beach we went back to the hotel and hung out by the pool for the rest of the day
Day 4
On our fourth day in California we went to the San Diego Zoo. There were so many different animals like giraffes, koalas, monkeys and lions. There was many more, here's a list. We were all excited to go to the zoo because all the hype, but to be honest it was just like the Minnesota Zoo on steroids. If you do go to this zoo though I advise you go about a half an hour before it opens because it gets busy fast! After the zoo we went back to La Jolla for dinner and a sunset.
San Diego zoo
Day 5
Our last day in this beautiful state… Day five was Easter and almost everything was closed except a few art galleries so me and my dad browsed the masterpieces and then went down by the ocean and watched the seals and lounged around. We had dinner and a restaurant near our hotel and had frozen yogurt for dessert. As we headed back to our hotel I window shopped for luxury cars and wished that someday I would own one. After checking out of the hotel we said goodbye to beautiful California and headed back to Arizona for a few more days of sun before coming back to Minnesota.
The Madison Gallery
(All photos by author)
(Visited 4 times, 1 visits today)