Featured image by Anton Bielousov
From twerking to victim blaming, slut shaming covers a wide variety of topics. The fact of the matter is, our society shames women for expressing their sexuality. Males who explore their sexual side are celebrated. They are deemed positive names like stud or player. Women on the other hand? Not so much. Slut, whore, skank; the list goes on and on. I don't know about you, but I think that's a load of B.S.
Slut shaming, as defined by google, is "the act of criticizing a woman for her real or presumed sexual activity, or for behaving in ways that someone thinks are associated with her real or presumed sexual activity". This definition leads me to the question; Why does anyone care what a women does in her spare time? Well, we've been conditioned to care since like, forever ago. Society has been obsessed with female purity for most of human history. From classic books like "The Scarlet Letter" to social stigmas similar to today's, women who express sexuality have been viewed as dirty. In fact, the first meaning of the word slut was an uncleanly women.
So why, you may ask, does society link female sexuality with dirtiness?
That's a great question. 
You may also ask why society responds to male sexuality in such a positive way.
Yet another great question. 
The double standards of slut shaming have many ripple effects. One of the most serious ones being rape culture.
Rape Culture
Rape culture, also known as victim blaming, is a term used to describe the social phenomenon of people blaming victims for their own rape. Not only does this concept further the emotional trauma for the victim, but it also protects the rapist. It makes it a lot harder for the victim to come forward and report the rape. This leads to some pretty shocking statistics.
Now who in their right minds would blame a victim for their own rape? Well, its more common than you may think. According to BBC, when people in Brazil were asked if a women wearing provocative clothing deserved to be raped, 65%  said yes. And according to Rainn.org, only around 40% of rapes are reported and 97% of rapist never spend a day in jail. Why do 60% of rapes go unreported you may ask? Because we make the victims feel like they have something to be ashamed of. 
Even if the rapes are reported, women are still shamed into thinking the rape was their fault. Society tells them that because they exercised the right to wear what they want, it gives someone else the right to sexually assault them.
In the featured image above, you can see people standing up to this type of victim blaming in what is called a 'slutwalk'. According to Wikipedia, slutwalks are movements in which many people come together and appose slut shaming. Many have speakers, workshops, and live music. They started in Toronto, Ontario, Canada when a police officer suggested that women should not dress like sluts if they don't want to be raped. Since then, they have spread all over the world.
Dress Codes
Another example of girls being shamed for what they wear is in school dress codes. Girls are taught from a young age that they have to cover themselves up in order to keep their male classmates focused and undisracted. However, young boys are never taught to focus on their school work and not sexualize their female peers. This concept impacts both the young girls AND the young boys in the situation. It teaches the girls that they should be ashamed of their bodies, but it also teaches boys that they are expected to not be able to control themselves. After all, boys will be boys, right?
Once again, we see the concept of male sexuality being promoted while female sexuality is shamed and degraded.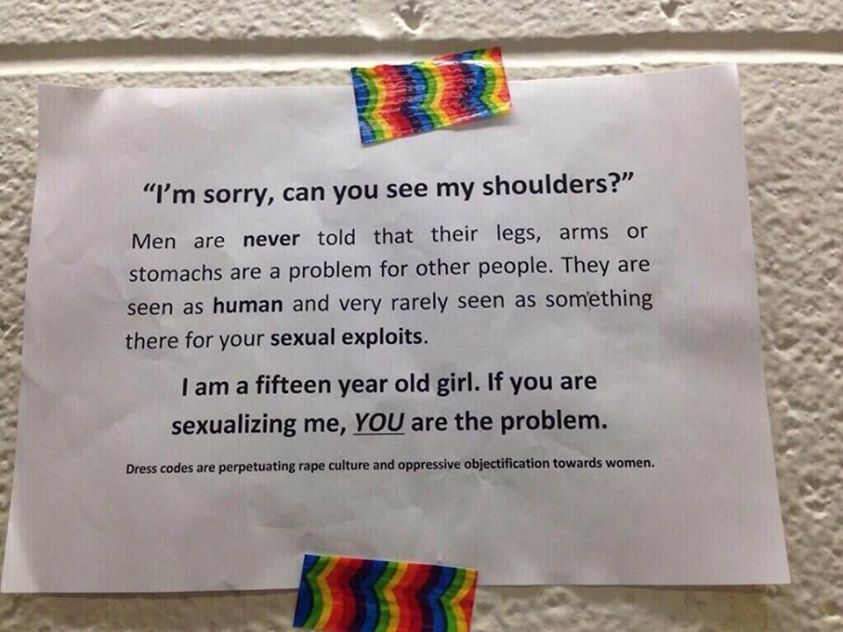 Sometimes schools even go as far as to suspend girls for "distracting their male classmates". This is essentially telling young girls that covering their bodies (so boys don't have to act like decent human beings) is more important than their education.
Conclusion
Basically, the point that I'm trying to get across here is that we as a society shame women for the choices they make on a much larger scale than we shame men. We call them degrading names and overall make them ashamed of being who they are. Boys are expected to not be able to control themselves, while girls are expected to be pure, but why can't everyone just be expected to do what makes them happy, regardless of gender?
(Visited 60 times, 1 visits today)