Featured image by Eva Rinaldi Celebrity and Live Music Photographer 
Kim Kardashian world revolves around fashion, beauty, social media and her other luxuries. She manages to build a $20 million home and owns countless pairs of thousand dollar shoes, without anything more than a high school diploma. Where does all her money come from and where does it goes?
---
Her Roots
Kim Kardashian was born on October 21, 1980, in Los Angeles, California, to parents Robert Kardashian and Kris (Kardashian) Jenner. Her father was a well known attorney that supported OJ Simpson in his murder trial of 1996. Her mother, was a flight attendant for a year when she met Robert. They were married in 1978, had four children; Kourtney, Kim, Khloe, and Robert. Robert and Kris divorced in 1991 and both went on to remarry. A month after the divorce Kris married Bruce, now Caitlyn, Jenner and had two kids with him; Kendall and Kylie. Robert after the divorce, was engaged to Denice Shakarian but never actually married her. He went on to marry Jan Ashley in 1998 and ended that marriage in an annulment. He then married Ellen Pierson six weeks before he died on September 30th, 2003 of esophageal cancer.  Kim graduated at Marymount High School and had no further education.
First Media Attention
Kim Kardashian was first noticed because of her friendship with Paris Hilton. Kim was not only her 'BFF' but was also her assistant. She looked up to Paris and aspired to be like her. Then when Kim began to be more famous than Paris their friendship ended.
Her BIG Break
Kim suddenly became famous after a sex tape of her and ex boyfriend Ray J was leaked in 2007. She filed a law suit against Vivid Entertainment for selling the sex tape, but dropped the suit and settled for $5 million. Kim's fame exploded after the 'debut' of her sex tape and she profited greatly from it.
Her Short Relationships
At the age of 19, in 2000 Kim eloped with music producer, Damon Thomas, and they divorced in 2003. Prior to the finalization of her divorce with Thomas she was dating the rapper, Ray J when their sex tape was released. She then took a break from marriages and dated celebrities; Nick Lachey, Nick Cannon, Reggie Bush, and  Miles Austin. She then was married Chris Humphries for about 72 days and divorced him in 2011. Then in 2013 she had a daughter, North West, with Kanye West. They were then engaged later that year and married in 2014 and have been together ever since.
---
Where All the Money Comes From
First Big Paycheck
Kim's first major paycheck of $5 million, according to TMZ, came from the dropped law suit against Vivid Entertainment because they sold her leaked sex tape. Her leaked sex tape was of her and current boyfriend Ray J. It was recorded in 2003 but was not leaked until 2007.
TV
This 'big break' lead to the creation of the family reality TV show Keeping Up with the Kardashians. She is still in the show today with a current contract of $100 million that will be split among the family according to Page Six. The success of Keeping Up with the Kardashians lead to many spin-offs she starred in such as Kourtney and Kim Take New York and Kourtney and Kim Take Maimi. She also starred in the Disaster Movie in 2008, according to E Online. She was contestant on Dancing with the Stars for the seventh season and was the third to be eliminated from the show. She has starred in other shows such as Project Runway, How I Met Your Mother, 2 Broke Girls, America's Next Top Model, and CSI:NY.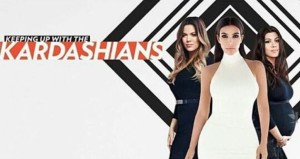 Her (mostly nude) Magazine Appearances
She has posed for countless magazines since her rise to fame. Her first major cover was when she posed nude for Playboy in 2007. Another more recent cover was for Paper where she posed completely nude and was paid absolutely nothing.
"Kim was not paid to appear in the magazine," a rep from Paper told E News . "She was very excited to work with French photographer Jean-Paul Goude. Paper has never paid anyone to be on its cover."
Endorsements
She has also profited from endorsements  with a variety of places from shoe companies to cupcake bakeries. These endorsements produce millions for Kim annually. Also, whenever she tweets any advertisement on social media she earns around $200 thousand per tweet.
Appearances
For every club and event appearances she is paid from $50 thousand to $1 million. The Kim Kardashian Hollywood game generated $19 million for Kim in this last year.
Selfies for Dayz…Literally
Also, her newly released 300+ page book Selfish, made completely of pictures of her, costing originally $19.95 and dropped to $10, sold over 125 thousand copies.150 thousand copies.
Her App
She has her game, Kim Kardashian: Hollywood, is estimated to make between $600-$700 thousand daily, according to USA Today. Also, she just recently launched a new app Kim Kardashian West, which branched off of her website kimkardashianwest.com, that makes an estimated $14.36 a day. However, for "exclusive" content there is a subscription option that costs a fee of $2.99 a month that increase those profits.
---
Where All this Money Goes
Beauty
According to OK! magazine, spends around $100 thousand dollars on a professional selfie re-toucher and she posts a picture nearly every day. She reportedly spends thousands of dollars on her beauty regimen every year. However, some may be given to her free of charge and brands may make special exceptions for her. For example, when Armani discontinued her 'favorite foundation' and they offered to send her one even though she got the brand owner's name wrong:
@KimKardashian Dear Kim – let us know which one you need and we'll send it to you. And Mr. Armani's first name is Giorgio.

— Armani (@armani) June 15, 2015
Fashion
Her daily 'street looks' cost over $15 thousand. Her wedding dresses cost $440 thousand.
Many Other Luxuries
The Dream House
She owns a 2015 Rolls Royce Phantom which starts at $407 thousand. Kim and Kanye's "dream house" cost them over $20 million to build and they bought the neighboring property.
The Wedding
Kim and Kanye's wedding cost was over $12 million. The wedding costs were made up of: her Givenchy wedding gown cost $500 thousand, Balmain reception dress cost $40 thousand, Balmain heels cost $40 thousand, venue cost $410 thousand, their 7 ft cake cost $6,800,  guests were serve $90 a bottle red wine, the flowers cost $136 thousand, guest hotel cost $500 thousand in total, Andrea Bocelli sang for a fee of $136 thousand to $1.3 million, a Bespoke Calacatta Vaticano marble table cost $478 thousand, two private jets cost $148 thousand, family hotel in Florence cost $1,800 per night, a 'glam squad' for the guests cost $65 thousand, and their vehicles cost $70 thousand.
Charity
Kim donates less then 10% of her profits. For example, when she had a online auction through eBay it raised over $400 thousand and only around $44 thousand went to charity. Apparently, when Kim was confronted about it she explained it was because of all the fees and work the company holding the auction cost.
 In the above quote, she did once want to adopt a child but she did not because her mom, Kris, told her "you can't just go to an orphanage and fall in love with a child and then take them home like you are shopping." (Kris Jenner. "A Thailand Vacation – Part 3." Keeping Up with the Kardashians)
(Visited 8 times, 1 visits today)