Personalizing something is definitely not a new idea. Many companies, including Shutterfly, for digital scrapbooking, WH Hostess, for monogrammed products, and even Gap, with their variety of sizes, fits, and colors, are centered around people's originality. Spoonflower uses this idea of creativity and personalization.
What It Is
Spoonflower is an online company that allows people to design and print their own fabrics, wallpapers, and gift wrap. This post contains directions for making fabric only. To do this, take a digital image and upload it to the website. Then choose what size it will be, and the type of repeat you want. There is also a chance to earn some money if people buy your designs, and Spoonflower holds design contests, which get people to notice your fabrics.
Creating From A Drawing
1. Decide what you want your final design to look like. Sometimes making a sketch first helps. You can break your design idea into several drawings if you want, and combine them later on a computer program like Photoshop (I wish) or Fotor and Sketchbook (free programs I use).
2. On a clean, white piece of paper draw in pencil whatever it is that you want your pattern to be of.
3. Carefully outline your drawings with a black Sharpie. Use a regular one for large drawings and a extra fine point one for small drawings. Erase the pencil lines.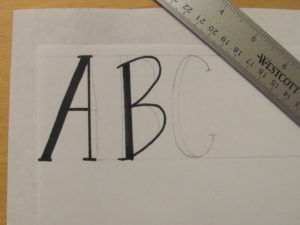 4. Take a picture of the paper (or alternatively, scan it into a printer and save as a .jpg), which leads right into. . .
 Creating From A Photo
1. Put your object on a clean, white piece of paper (or just use your drawing) and set it in an area with soft light, so there won't be any sharp shadows to worry about. Be careful though, the photos shouldn't be too dark. Also, using a somewhat 2D object will lessen the shadows.
2. Take a photo of the paper, being careful to zoom in as far as you can so there is preferably only white in the background. Make your picture as clear as possible, so editing is easier.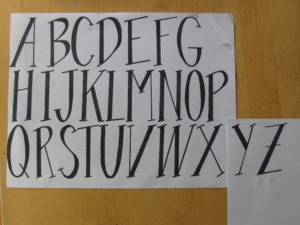 3. Transfer the photo from the memory card to a computer.
4. Open the picture in a photo editing program.
5. Use the "paint bucket" or a similar tool to make the background an even white or another color.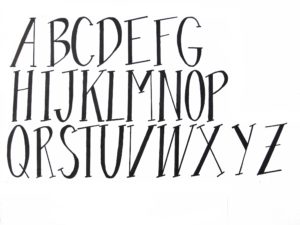 6. You can use the paint bucket again, or a brush to make the outline and any inside sections a uniform color.
7. Check to see if you need to do any retouching or adjusting.
8. At this point, you can combine multiple photos if you wish. You will have to know how to use your specific program to do this.

9. Save the image and crop to the desired size.
 Pattern Repeats
Pattern repeats can be the most difficult part of creating your design.
You can do it the easier way and create a pattern with a single object on a solid background. The more complex and professional way is to make the pattern overlap itself (the top and bottom edges flow together and same with the right and left). This video shows a way of doing the overlap method using Photoshop.
Video on youtube from Anne Was Here.
Uploading
Figuring out cloth choices, copyrights, DPI, and pattern repeats can be confusing at first, but they are all important parts of the fabric creation process.
This is the fun part. Once you upload the file and confirm that you own it or can legally use it, you get to choose how your pattern will look. There are 5 repeat options: Basic, Half-Drop, Half-Brick, Center and Mirror (all pictured below). Pick the one that looks best for your particular design. I usually choose the half-brick one because it seems to make most designs fit together well and be evenly spaced, but it could look totally odd with your image. For the example design, I chose the Half-Drop because of the even amount of background around all sides of the object. The Center option would be useful for a design that does not have a nice repeat and should only be ordered by a specific increment. The standard cloth is the Basic Cotton Ultra which is $17.50 per yard and $5.00 for an 8-inch square swatch. The fabric type and amount you choose depends on what you plan to do with the fabric. Basic Cotton Ultra is pretty generic, and will work for most projects that don't require a stretch. DPI stands for dots per inch, which is how precisely the printer will replicate your image. I have never changed this, and my designs have seemed fine so far. Keep in mind what you plan to do with your fabric when giving it a scale.
Different repeats on one of my designs: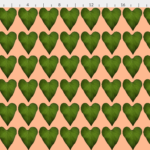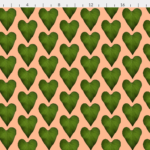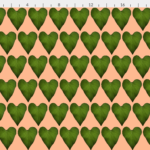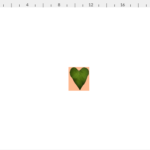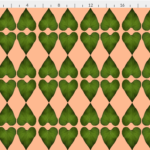 Here is what an uploaded design looks like in the website.

Rules For Selling
Did you know you can sell your design to others and receive 10% of the retail cost of the cloth?
Spoonflower help center says you must complete a 4 step process, including filling out a tax form and accepting the agreement to become a seller, unless you want them to withhold 30% of your profits. To make a specific design available for sale, you must first order a swatch to verify the quality of image and colors. You can also add design descriptions and keywords online to try to increase sales.
Contests
Spoonflower holds a different contest every so often. Each contest will have a theme and and some will be paired up with a different company that uses the winning design in their product. Anyone who uses the site (ages 13+) can enter a design for spoonflower users to vote on. There is a variety of prizes that may include different amounts of Spoonflower credit, and being featured in a press release. Contests are a great way to get people to notice your designs, but you must create a new design for it to be eligible for vote.
Ideas
Click on the link to see instructions and/or photos to get you started.
That's it. Now you are ready to make DIY designs of your very own. You can find other ideas and instructions in art books and online, but remember that the whole point is to create original patterns. Have fun!
Copyright
Images and screenshots shown above are copyrighted by the author; if you are interested in using any of them, please visit my page on Spoonflower!
– – – – – – – – – – – – – – – –
Featured photo from Pixabay
(Visited 67 times, 1 visits today)